Bamboo is a great choice for a wide range of building-related solutions!
You may not have considered Bamboo as a viable material for your project – and perhaps have looked at other, more common products like timber, hardwood, laminate, ply and others. However, the products that Plantation Bamboo have available are incredible for many reasons.
Bamboo offers several benefits... Naturally Beautiful
Sleek, sophisticated and stunning come to mind when you think of finished bamboo products. Bamboo suits modern and traditional decor making it a very versatile product and gives a natural touch to any environment.
Being a natural timber product it can match all types of decor and many of our bamboo products can be finished with a range of colour stain/lacquer options to create innovative and amazing solutions to your building projects. Have a look at the range of our beautiful images across our website for some ideas. Hard and Durable
Bamboo is very hardy and durable and can be used in many heavy duty applications. It has greater tensile strength by weight, than steel – and it withstands compression better than concrete!
Check out the Janka rating scale showing how hard Plantation bamboo really is, compared to some other timber products!
Moso bamboo is one of the fastest growing plants on earth. Although giant bamboo is formally not a wood but a grass, it has excellent hardwood like characteristics. Discover the benefits that Plantation Bamboo products can offer in your project! Eco-Friendly
Bamboo is the fastest growing plant in the world, growing up to 1 metre a day! To be renewable, a material must come from a natural resource, which is why hardwood and bamboo are the only renewable flooring options available. Bamboo has the benefit of being rapidly renewable. While it take traditional hardwoods 40-120 years to maturity, it only takes 4-6 years for bamboo plants to reach full maturity. Bamboo also minimises C02 gases and generates up to 35% more oxygen than equivalent stands of trees.
Plantation Bamboo's products are not only eco-friendly but panda friendly too! There are over 1,000 species of bamboo. Pandas eat around 30 species. The bamboo used to make Plantation bamboo products is Moso (Phyllostachys Pubescens) – this species is not eaten by pandas. Easy to work with and install
Flooring – our pre-finished flooring means no messy sanding and finishing. The uniclic (click-locking system) on our compressed bamboo flooring helps for a quick and efficient installation for the installer or DIY'er.
Decking – Plantation's X-treme decking has a special clip system to make installation quicker and more attractive (with no visible fasteners showing). With tongue and groove end-matching there is less wastage and firmer joins too.
Panels – feedback from Joiners is that Plantation bamboo panels are great to work with and with light sanding provide a beautiful, smooth and natural finish. Healthy
It's no secret that carpet is the perfect home for dirt, dust and nasty allergens. With sleek and natural bamboo floors, you never have to worry about trapping dust mites and pollen in your floors. Bamboo flooring is well recognised for its hypo-allergenic properties. Great Value
Along with all the other great aspects mentioned here, Bamboo provides a great value-for-money option for many building projects – across a wide range of joinery solutions, decking or flooring needs. An investment in Plantation bamboo will provide lasting value and enjoyment.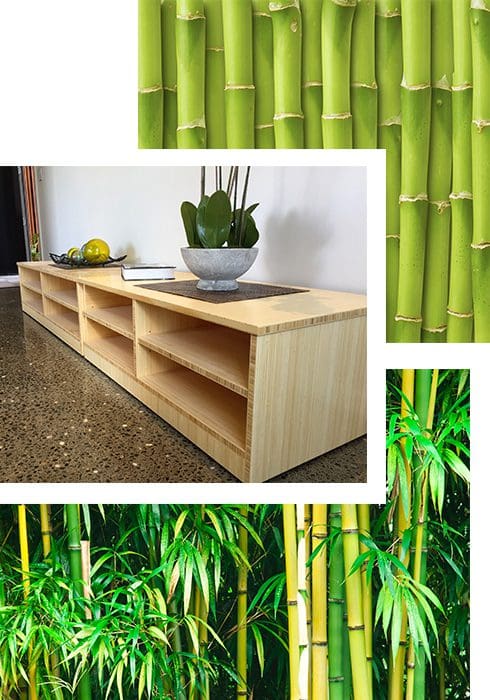 High Stability
Due to the composition of individual strips, bamboo will shrink and swell less than most solid wood species, providing a very stable solution. This means that unique and intriguing solutions and creations can be developed. Easy Cleaning & Maintenance
In addition to being very hard and having high wear resistance, bamboo floor cleaning and maintenance is easy. Bamboo floors require a simple sweeping or dry mopping. For sticky stains, a damp mop with water is normally sufficient, eliminating the need for harsh cleaners.