Try the next generation alternative in decking timber
Bamboo x-treme decking is a great, eco-friendly and sustainable alternative to timber decking or composite decking materials. The solid and very strong bamboo decking boards are made from compressed, thermally treated bamboo strips. The extreme stability of the material ensures a very durable deck, with the natural appearance of hardwood flooring or decking. For more information, photos of recent projects, to request a quote or to a product sample, please click below. 
For more information, photos of recent projects, to request a quote or to a product sample, please click below. 
Request a free sample of the best composite decking timber alternative.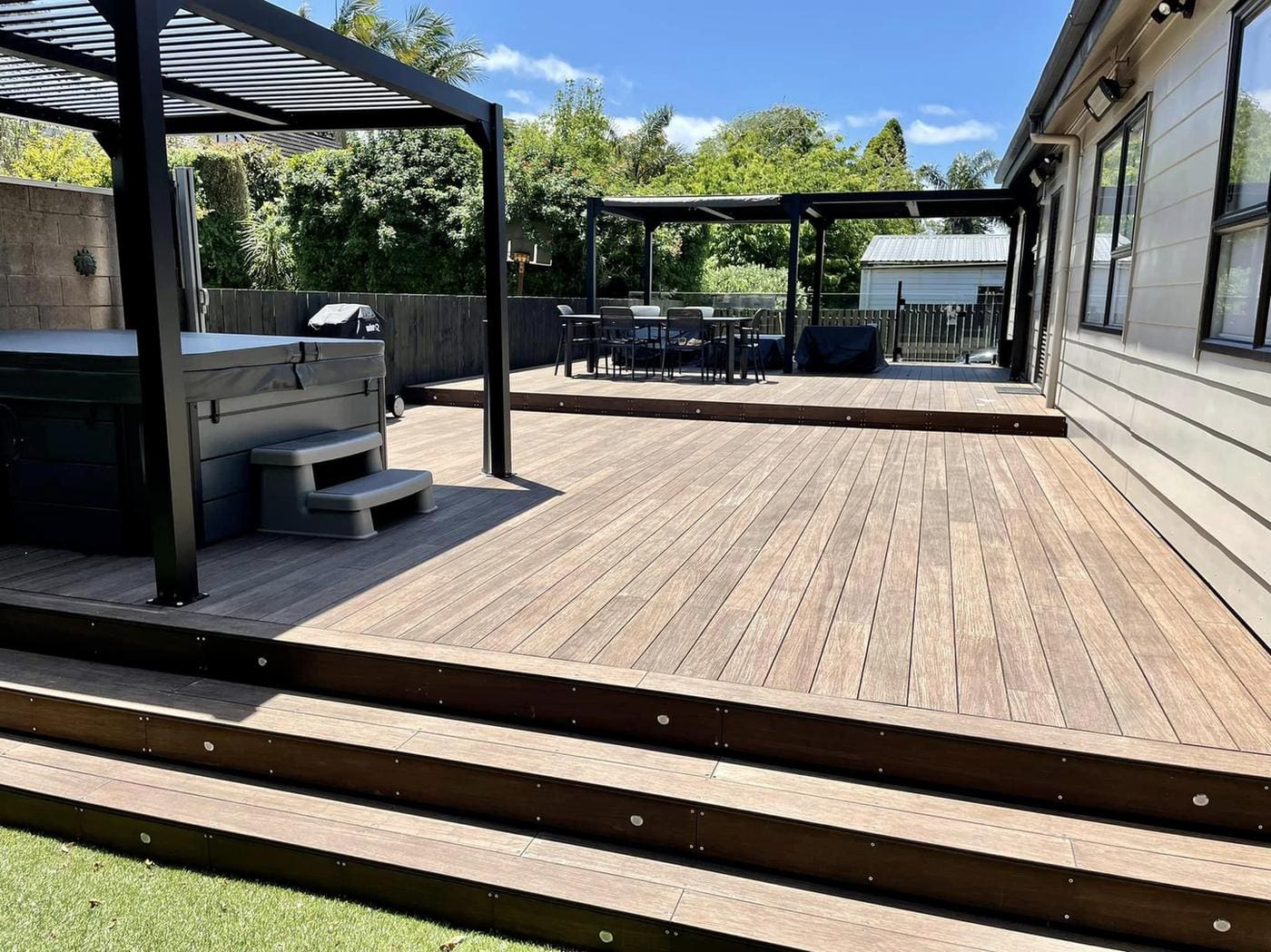 Stable and durable composite timber decking alternative with a 25 year warranty!
After more than 10 years of successful manufacture and sales of this thermally treated bamboo x-treme decking, our Dutch supplier takes the product to the next level by extending the warranty to 25 years. No other timber decking hardwood option provides such a long life commitment. With all the international certifications in place and with more than 3 million m3 of decking installed around the world, in all types of climates and environments, the product is proven as a quality decking material that is more stable and harder than most decking timber or composite options!
Beautiful and sustainable decking solutions
The bamboo x-treme decking boards have many characteristics similar to tropical hardwood decking. However, boards are made from the fast growing and rapidly renewable Moso bamboo species (grows up to 1 meter a day!), which doesn't result in deforestation – as the bamboo plant does not die when the stems are harvested. Like any hardwood or timber decking products, when exposed to the weather, bamboo x-xreme decking will turn grey/silver over time. A beautiful, natural look will appear that is similar to weathered timber decking – but this can easily be oiled to return a rich, darker/colored look, if desired. See many photos of bamboo x-treme decking projects in our gallery
Easiest to install to among  Timber Decking Alternatives
Installing the bamboo decking is quick and easy using the powder-coated stainless steel clips and screws provided. If the joist set-up is spaced at 462mm then the decking boards can be end-matched over a joist with the snug tongue-and-groove end join (ensuring no gaps), which is not possible with less stable timber, composite or hardwood decking products. There will be less cutting and wastage too – reducing the installation costs by up to 50%.
Top quality Decking Timber Importer and Supplier throughout New Zealand
You can buy this high quality and sustainable alternative to hardwood and timber decking with confidence directly from the importer, delivered to your door be it in Auckland, Christchurch, Wellington, Hamilton or anywhere else in New Zealand. Plantation Bamboo has been NZ's specialist bamboo supplier for over 15 years and is known for great customer service, expertise and quality products. If you don't believe us, see what our customers have to say about it and request a free sample.